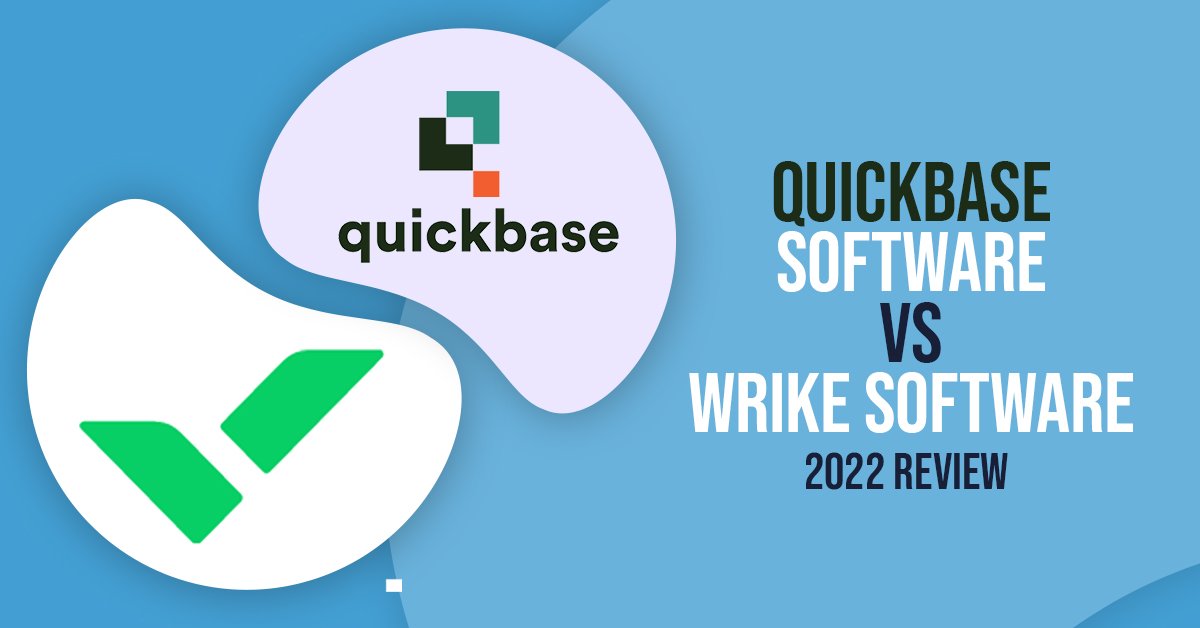 QuickBase is software designed to make projects manageable by providing a one-stop-shop setting to its users. Wrike software is a work management system that provides a detailed model through which people can streamline and accomplish their tasks. 
Many entrepreneurs have taken to the online workspace when it comes to running their business. In fact, with globalization, it has become imperative to have management platforms where everyone can communicate with their team and clients. Another advantage of work management software is that it has made working far more accessible for freelancers and contract workers. QuickBase software vs Wrike software provide sustainable tools which can come in handy for finishing daily workload.  
Both Quickbase and Wrike are pitched as management software with the ability to organize workload. At the same time, each has separate features that can enhance accessibility as well as efficiency.  
Review of QuickBase Software vs Wrike Software
A comprehensive review of Quickbase software vs Wrike can prove beneficial for those who are conflicted between these two options. Although they share similarities in their goal to provide workspace solutions, they ultimately have several differences as well.   
QuickBase Features 
QuickBase prioritizes its feature by focusing on certain goals, such as eliminating a gap in the supply chain and maintaining different properties. To run a successful enterprise, it is imperative to have accurate information as well as organized data.  
Furthermore, QuickBase software caters to several industry fields like manufacturing, healthcare, real estate, and construction which means that it retains the ability to provide support for heavy projects. 
QuickBase Pricing Models  
Quickbase provides two standard pricing plans: Team and Business. One is priced at $600, whereas the other is billed for $2,000, respectively, per annum. The first plan, Team, is an ideal choice for growing enterprises that are still taking their baby steps. However, it enhances team management with the help of 50 customizable apps on the platform. Another significant feature of the Team plan is Workflow Automation which can be accessed with the drag-and-drop configuration. 
Other features include flexible licensing options as well as mobile-ready apps so that you can start working on your projects without any delay. 
In contrast to Team, the Business pricing plan is designed to accommodate businesses that have more users and thus require an advanced controlling system. This model of payment features up to 100 different integrations. There are also advanced built-in tools such as audit logs, mobile offline, and Team features.  
Wrike Features 
The central goal for Wrike software is to make teamwork as efficient as possible. Among its many benefits is the option to customize the dashboard so that it is particularly tailored to match your goals. Additionally, Wrike software gives you the ability to let you work in real-time. You can coordinate with the team members relevant to the task rather than having to send emails. Furthermore, you will get notifications and have the ability to comment, which means that you can stay on the same software without having to switch from one platform to the other.  
There are four pricing plans so that everyone can find a model which fits them. The free plan provides task management, interactive boards, account-wide work schedules, and 2GB of storage. Cloud storage integrations with DropBox and Google Drive etc., further let you access your data easily.  
Wrike Pricing Model  
The professional pricing plan costs about $10 for each user and has shareable dashboards and interactive Gantt charts that maintain a thorough communication. It even includes integrated applications like RSS, Excel, and Project, which are essential for business management.  
The third pricing plan is called Business and has an extensive list of benefits for enterprises. In addition to having custom workflows, you get branded workspace and custom fields. You can create custom request forms, allocate time for each task, time-track your projects and provide user permissions too. The Business plan, in other words, has embedded all the useful tools so that your projects are manageable as well as profitable. The cost per user for every month is $24, and the model is ideal for a team of up to 200 people.  
Lastly, Wrike even lets you pick from two other modes. You can pick the marketing and creative teams option in order to narrow your focus to design and branding. Whereas the services delivery team lets you maximize your billable time and generate revenue.   
Quickbase and Wrike for Enterprises 
Enterprise planning is offer by both Quickbase and Wrike. Both of them give you the chance to create a tailor-made dashboard for your personalized team. Wrike has a heightened security level, two-factor authentication, and admin permissions for those who avail of this plan. 
Quickbase software, on the other hand, gives you the chance to entirely customize your plan. However, you will get the added benefit of on-premises connectivity and flexible licensing option as well.  
The pricing for each of the two software is based on the type of solutions which they are able to provide to their users.  
Comparison of QuickBase Software vs Wrike Software 
Both Quickbase and Wrike target different goals of their users. While QuickBase is far more useful for developing software products, Wrike is helpful in creating work charts. Both of them has the ability to complement each other as they have a list of tools. That can enhance the efficiency of the other. In fact, by integrating the two of them together, you may be able to make the most out of each software. While it is possible to read feature lists of the two, it can be rather helpful to use Wrike demo or QuickBase demo to learn more about them. 
 In conclusion, QuickBase and Wrike provide solutions to teams that are working to achieve the same goal. However, Quickbase is more suitable for projects and products. While Wrike is a tool that provides methods for assigning and organizing tasks. You can also use Wrike to manage projects which are under development on the QuickBase panel and completely automate the task completion process for yourself and your team.