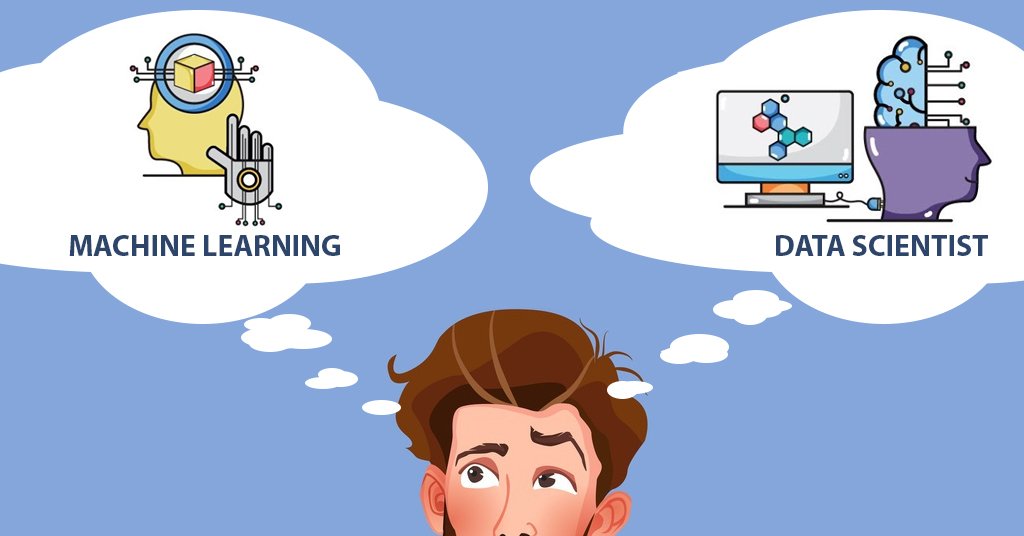 One of the most common questions for professionals working with Big Data is what career to choose between Machine Learning Engineer and Data Scientist. These are the two hottest jobs in the IT industry these days. 
The main reason behind this fact is the amount of data that we generate every day. According to World Economic Forum, we will generate 463 exabytes of data every day by 2025. This data is to be cleaned and processed in order to make sense of it. 
Companies are looking for skilled and trained machine learning engineers and data scientists as well for work with this humungous amount of data. Professionals also wish to switch or upgrade their careers and get confused between these two amazing positions. 
Since there is a shortage of skilled and talented professionals, it has become difficult to find a perfect blend of experience, personality traits, and logical and analytical skills. 
There is an immense increase in the students enrolling in PG in data science and Machine Learning Training courses. Because these careers pay well and have so smooth curve for growth that professionals dream to become one of them. 
Let us demystify the differences between the two and then you can choose your career path accordingly. 
What is a Data Scientist?
Data Science is an interdisciplinary domain that utilizes a scientific approach, algorithms, processes, and systems to identify hidden information from structured or unstructured data and apply these insights to a variety of applications. 
So, a data scientist is an analytical data expert who deals with massive amounts of data, develops strategies for analysis of data, explores and visualizes it, builds models using programming languages, and comes up with a user-readable report to help an organization in informed decision making. 
A typical job role of a data scientist is discussed below(as mentioned in tasks of a popular company named BookMyShow):
To perform data analysis after collecting data from various resources and integrating it

To solve problems based on customer engagement and customer experience

To participate actively and add value throughout the data lifecycle right from data collection, format, model inputs, and API handshake

To develop models that are deployable and to be integrated with production systems

To understand business as well as customer problems in order to create models in support of smart decision-making

To develop advanced machine learning models, statistical models, Big Data Streaming, HDFS MR Jobs, deploy high-quality real-time solutions, analyze and create reports on huge data sets
Basically, as a data scientist, you are expected to possess:
Excellent statistical skills (Statistical Inference, data wrangling, databases)

Programming languages (R, Python, SQL, SAS)

Data visualization (Tableau, Qlikview, PowerBI, D3, etc)

Big data platforms (Cloudera, Oracle)

Machine learning

Critical thinking, problem-solving, analytical, and logical skills

Excellent communication skills
To draw business insights you usually use a blend of mathematical and statistical skills and conduct predictive forecasting from any kind of data sets (structured, semi-structured, or unstructured). 
 Data Scientist Salary: the average annual salary of a data scientist in India is around INR 9,00,000 and may go as high as INR 20,00,000 or more as you gain experience, certifications, and knowledge.
What is Machine Learning Engineer?
As the term itself describes, a machine learning engineer trains a machine to mimic human behavior. The most common example of machine learning is Alexa, and other voice assistants (Siri, Cortana, Google assistant), that works on your commands. Other examples include a fraud-detection system that flags discrepancies in your credit card usage, speech recognition, or a computer vision system that is used to identify deadly cancerous cells in patients. 
Basically, a Machine Learning Engineer develops systems that can use data obtained from data scientists' work and creates models accordingly. 
The job role of a Machine Learning Engineer (as defined by a vacancy at UiPath) is discussed below:
To use deep learning and machine learning techniques to build new, highly scalable solutions for solving business problems

develop NLU, NLP, NER, NLG, computer vision techniques, and models, in order to acquire, parse, interpret, and visualize structured and unstructured data

Run regular tests for benchmarking and perform statistical analysis, come up with conclusions on the impact of your optimizations based on your research, and provide thought-leadership to the team

Understand and identify useful information from huge datasets to help automate the workflow and optimize key processes

Assist the team so as to build a large scale online learning platform

Guide the team in developing the pipeline from research to production

Stay updated with the latest research and technology to convey your knowledge across the enterprise
Like data scientists, machine learning engineers are also required to be proficient in statistics and mathematics. But they are also required to possess the following skills:
Strong knowledge of Keras, and PyTorch along with excellent knowledge of programming in some of the popular languages such as R, Python, etc.

Supervised and unsupervised learning algorithms

Statistics for AI

Data Wrangling and API

Deep Learning and Computer Vision

Natural Language Processing
Apart from becoming a Machine Learning Engineer, with the above-mentioned skills you can advance your career to become AI/ML Researcher, AI developer, decision scientist, AI Engineer, and more.
Machine Learning Engineer Salary: as per data by Glassdoor, the average annual salary of a Machine Learning Engineer in India is around INR 11,00,000. 
Machine Learning Engineer vs Data Scientist: The Difference
You can see that both the data scientist and machine learning engineer work on data to come up with data-driven solutions. The actual difference lies in the way they work. You can understand the difference between the two is like the difference between a scientist and an engineer. While Scientist defines the body of knowledge on the natural and physical world, engineers work on that data to design and develop processes and products. 
A Data Scientist is involved in collecting, processing, and extracting meaningful insights out of data. With the results obtained from the processes of data scientists, a machine learning engineer has to develop models to help systems mimic human behavior. 
Conclusion
You have now gone through the difference between the two job roles, the similarity is that both of the roles give you a plethora of opportunities for growth and advancement. You can take up an online training course to become any of the two job roles. Simplilearn helps you become a successful data scientist as well as a great Machine Learning Engineer.
Remember that both of these roles offer you huge salaries, a lucrative career, and dynamic work experience. 
Enroll Now!!