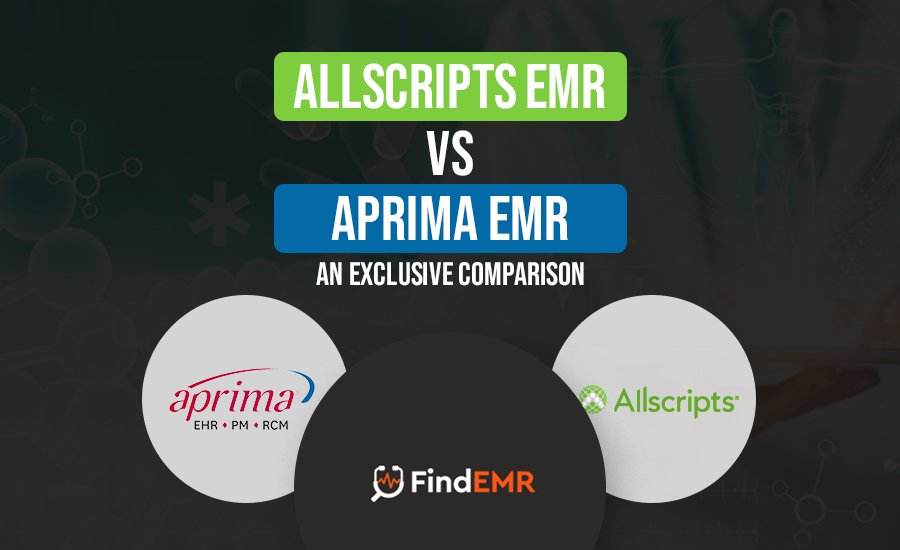 Comparing EMR solutions can be a daunting task for care providers. But, no matter how hard it is, physicians can't skip it because it's the best way to pick out the best-of-all healthcare solutions. In addition, it is common for medical practices to prefer quality over quantity when it comes to EMR platforms. So, here we will present two commendable EMR platforms, Aprima EMR and Allscripts EMR. 
Even though both these are reputable software, both vary significantly in terms of the services, price, and customer satisfaction rate. You have to take into account all these things to make a productive decision for your practice. By conducting an Allscripts EMR vs Aprima EMR comparison, you can easily decide which solution seamlessly aligns with your clinical requirements. So, shall we begin the Allscripts EMR vs Aprima EMR comparison?
Allscripts EMR
Allscripts is a reputable EMR solution that scored an unparalleled position in the industry for its exclusive feature range. It helps practices with all clinical processes from task management to financial management and more. Its EHR, practice management, and RCM modules work in sync to assure the fluent flow of information among the clinical departments. Allscripts EMR aligns its goals with the clinical needs to help practices soar like eagles. 
Aprima EMR
Aprima EMR is an all-rounder solution that empowers medical professionals with tech-savvy functionalities. It is geared towards helping practices scale by enabling them to maintain an excellent clinical reputation. This multidisciplinary solution looks after the needs of over 70 specialties and provides flawless customer support for all. The RCM services of Aprima EMR work at the next level and boost the cash flow of clinical practices. 
Allscripts EMR vs Aprima EMR Features
Allscripts EMR Features
Features of Allscripts EMR are designed to lessen the pressure on physicians' minds. They help get tasks done within minutes instead of hours so that providers can focus on what's important. Here are some of the impeccable features of Allscripts EMR:
Clinical Library
It provides an extensive clinical library for the ease of practitioners. Practitioners can look for their desired templates regardless of what specialty they practice. There's a solution for all. Care providers can choose from thousands of pre-bit and configurable templates to create effective treatment plans in a blink of an eye. 
Precision Medicine
It is one of the ground-breaking features of Allscripts EMR and is highly praised by the users, as shown in the reviews. This 2b solution works a great deal by collecting data from molecular labs conducting tests, and creating comprehensive patient profiles. In addition, it allows providers to consult pharmacogenomics to prescribe proper medication. 
Dbmotion
Reviews of Allscripts EMR show that it is best known for its population health service. It is a well-known data-sharing facility that empowers providers to deliver value-based care by aligning patient records longitudinally. It follows a discrete data collection method to gain actionable insights. Also, there's an analytics gateway that helps with patient monitoring. 
Aprima EMR Features
Aprima EMR features a never-ending list of tools of services. It offers state-of-the-art features to reduce manual clinical operations to enhance clinical efficiency. Here's a list of the top three features of Aprima EMR:
Adaptive Learning
This resilient service streamlines all front-end and back-end clinical processes. In addition, Aprima EMR features adaptive learning, and thus, it easily aligns with the personalized needs of clinicians. Reviews reveal that Aprima EMR assures pure accuracy in clinical procedures by adapting to the entire healthcare network and thus meets the expectations of all its clients. 
Real-time Dashboard
Of all the features Aprima EMR offers, this is the most productive one. It helps providers stay updated on the tasks' progress and keeps them in the loop about their staff's effectiveness. They receive notifications and updates for coming appointments and lab reports etc. But, here's the catch, it comes with a to-do list where tasks can be marked as done. 
Patient Satisfaction
As per the reviews, increasing patient retention rate is what Aprima EMR is really good at. Reviews of Aprima EMR show that it maintains the quality of care and provides patient transparency in their treatment process. Aprima EMR features an intuitive portal to keep patients engaged, and it can be used as a secure means of communication too. 
Allscripts EMR vs Aprima EMR Demo
Both Aprima EMR and Allscripts EMR. Offer a free demo. The demo of Allscripts EMR is crafted by skilled personnel who master the art of presentation. With their exceptional presentation skills, Allscripts EMR puts forth an impressive and well-structured demo to attract potential customers. Users say that Allscripts EMR is engaging enough to convince users to try it once. 
Aprima EMR solution also features a detailed demo. In just a few-minutes video the vendor presents all its services skilfully so that care providers can evaluate the system easily. The demo of Aprima EMR is well-organized and is praised for its remarkable word choice. Aprima EMR demo is the best way to get an inside look at the solution and serves as a way of conducting a thorough EMR analysis for medical professionals. 
Allscripts vs Aprima EMR Pricing
Let's look into Allscripts EMR pricing first. The pricing structure of Allscripts EMR is not disclosed yet. It is available upon request. We learned from Allscripts EMR reviews that the vendor provides a client-oriented cost structure. Users say they don't have to break their banks to invest in Allscripts EMR as it comes with a reasonable pricing range. For more details, contact the vendor. 
Aprima EMR pricing details are pretty similar to the former one. The pricing structure of Aprima EMR is also not available on the web. You have to send a request to learn about its cost structure. Reviews show that Aprima EMR is a budget-friendly solution and is worth every single penny. Clinical providers believe that Aprima EMR comes with the most reasonable pricing structure. 
Final Words
We hope this detailed Allscripts EMR vs Aprima EMR comparison will turn out to be helpful for you. We diligently penned down the features first so you can see where the specialties of both software lie. For pricing details, send requests to Aprima EMR and Allscripts EMR, for it is the only way to get authentic details about their cost structure.