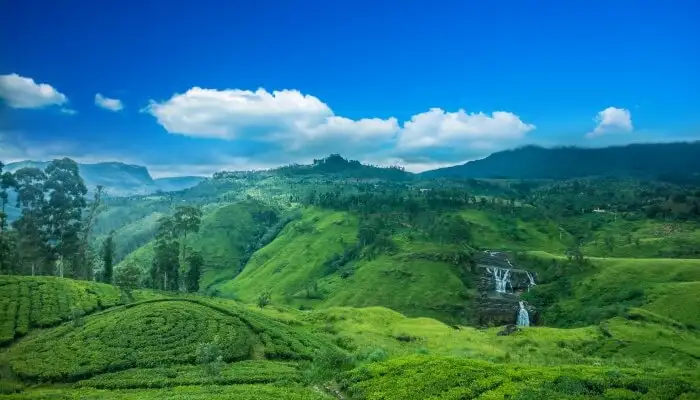 SriLanka – is this culturally rich, bite-sized Utopia in the Indian Ocean. The country is a true traveler's paradise, with turquoise coasts, a lush green interior, and some of the best food your taste buds are likely to ever experience. Sri Lanka, located between Southeast Asia and India, is undeniably appealing because of its history, culture, and natural beauty. Despite its challenging recent history, the island nation, which floats in tropical waters off the southern tip of India, is known for its amicable citizens, peaceful Buddhist culture, and laid-back way of life. You can travel through various eco-systems in Sri Lanka in a matter of hours. Where else can you spend the morning touring a 300 BC city and then going on a safari in the afternoon? Sri Lanka is endowed with historic capitals, temples, and breathtaking landscapes considered being of global significance. UNESCO has nominated eight sites in this island nation as world heritage sites.
From the Pearl of the Indian Ocean to the world's oldest human-planted tree Sri Lanka is a hidden gem located southeast of India – waiting to explore. Browse through various options of Sri Lanka Tour Packages. While looking for different tour options, having a good understanding of the country will help you create an itinerary based on your preferences. Scroll below to know more about this teardrop nation.
Places to see in Sri Lanka
Victoria Park
Victoria Park is a public park in Nuwara Eliya, a hill town in Sri Lanka. It is one of Sri Lanka's most beautiful parks and one of the best places to visit in Nuwara Eliya. Victoria Park is located in the heart of Nuwara Eliya town and is hailed as one of the best-kept town parks in South Asia. The park was originally the study area of the Hakgala Botanical Garden, but in 1897 it was given a new name in recognition of Queen Victoria's 60th coronation. It is the ideal location for family vacations where visitors may take pleasure in viewing unusual flowering plants and exotic birds. The park's first tree, an oak, was planted by a visiting German princess, and it now covers 27 acres of land. It now supports a diverse range of tree and plant species.
The most notable feature of this location is that 90 percent of the plants found here are of foreign origin. Several rare bird species can be seen in the park, like Kashmir Flycatcher, Pled Thrush, Blue Robin, etc. A little children's playground and a miniature toy train are at the other end of the park. Although the park is accessible year-round, the best times to go are from March to May and August to September, when the flowers are in their peak bloom.
Colombo Museum
This splendid Colombo museum is in a sparkling white, neo-Baroque building created for it in 1877 by William Henry Gregory, the Governor of Ceylon. It offers a fascinating trip through Sri Lankan history. Rooms take you through each of the country's historical kingdoms, with exhibit boards highlighting essential topics like the significance of Sri Lanka's Buddha sculptures. You'll witness a diverse set of artifacts from the colonial era, such as swords, guns, and statues, as well as ancient carvings from Sri Lanka.
Seek for the 9th-century Bodhisattva Sandals, which resemble two enormous bronze feet, and the beautiful royal throne created for King Wimaladharmasuriya II in 1693. The grounds of the humble Natural History Museum, which houses a collection of odd-looking stuffed animals and bones, also include a branch of the Laksala gift shop, an excellent cafe serving Sri Lankan food, and banyan tree shade.
Seetha Amman Temple
In the highlands of Nuwara Eliya stands the Seetha Amman Temple, which is dedicated to Lord Ram's bride. It is the only Seetha Mata temple worldwide. This location is also one of Sri Lanka's most important Ramayana-related sites. Seetha Mata stayed here for a while after being kidnapped by the evil king Ravana some five thousand years ago. On the Nuwara Eliya slopes, the shrine is located amid a verdant botanical park. The Seetha Eliya village, where Ravana had imprisoned her, is home to the temple.
The temple is open every day of the year, with two worship times available: one in the morning and once at night. If you appreciate going to temples and are interested in the Ramayana, you must visit this place. The location is stunning on its own and ought to be on your agenda even if the temple isn't there.
Pinnawala Elephant Orphanage
Orphaned, injured, and severely injured elephants are taken care of by the Pinnawala Elephant Orphanage. The guiding concept of the project is to care for baby elephants that have been abandoned by their mothers because they are unable to survive on their own.
The Sri Lanka Wildlife Department established the Pinnawala Elephant Orphanage in 1975 on a 25-acre coconut farm next to the Maha Oya River. Visitors can ride elephants, pet them, and play with them at the park. Elephants are friendly and play along with the tourists. This orphanage is the world's only factory that recycles elephant excreta to make paper.
Things to do in Sri Lanka
Sri Lanka Travel Guide has several interesting things to do despite its small size. For an island about the size of Ireland, Sri Lanka is incredibly diverse and offers tons to see and do.
Try Different Spa Therapies
While Sri Lanka is home to numerous well-known tourist destinations like national parks, stunning beaches, and historical sites, there are also some lesser-known but intriguing facets of its tourism sector, such as its spas. Sri Lanka has a long history of revitalizing the spirit, soul, and body in addition to the mind and body.
Ayurveda, the oldest and most holistic medicinal system in existence, has been the most widely used treatment for tired bodies and weary souls for thousands of years. For more than 2000 years, Sri Lanka has served as a hub for spiritual and physical healing. Ayurvedic programs include a variety of herbal therapies, different baths, and massages as well as purifying and revitalizing practices like yoga, meditation, and specific diets.
There are currently several spas in Sri Lanka that offer both Western and Eastern therapies, in addition to Ayurveda, including Thai massage, hydrotherapy, herbal baths, reflexology, and aesthetic services. Consequently, it provides its clients with a healthy package.
Visit tea factories
Soon after the British took over the 'Teardrop Isle' in the early nineteenth century, they discovered that Sri Lanka's highlands were suitable for tea cultivation. Tea is still a significant part of the Sri Lankan economy. Its importance on travel itineraries has grown in recent years. The plantations closest to Nuwara Eliya, Kandy, and Ella are the most popular tourist destinations due to the ideal growing conditions provided by their cold, foggy climate. Only a few countries, such as Sri Lanka, still harvest tea by hand from bushes planted to follow the curves of the slopes.
The leaves are picked and then transported to neighboring factories, where they are dried, processed, and packaged into crates in preparation for transport. Sri Lanka has a long history of tea tourism, and practically all tea factories provide such tours. The tours are short and can be done en route while traveling through the tea country.
Try boating at Gregory Lake.
A serene boat ride, a blue lake, and lush vegetation make the ideal day trip. Discover it all at Gregory Lake. Finally, the most stunning location in Nuwara Eliya offers the perfect setting for pleasure and relaxation. After the area became a center for tea plantations, Lake Gregory was created as a man-made lake to accommodate the region's expanding water needs.
Today, locals and tourists find it a highly popular spot to visit. There is plenty to do here, including coffee, horse-riding, boating, bike-riding, and long walks. A stroll around the entire lake is magnificent, and the grounds are kept in exquisite condition. In light of this, Gregory Lake is unquestionably the top activity in Nuwara Eliya.
Best time to visit Sri Lanka
Sri Lanka is the only destination that qualifies as a year-round destination. Its proximity to the equator guarantees comfortable, consistent temperatures throughout the year. The best months to go to the beach are December through April. This high season coincides with the onset of the nation's best weather in the south and west.
The most frequently encountered animals during the tourist season are leopards, elephants, and buffalo, which last from November to April. The ideal months for traveling the entire nation are September through October and April. The most excellent weather in Sri Lanka is available during the two-shoulder seasons, with fewer tourists and lower rates.  The best time for less dense crowds is from May through August. With the arrival of the Yala monsoon in May, Sri Lanka enters its low season.
Conclusion
Summing up – do not underestimate Sri Lanka based on its size. I hope you must be inspired by now and without much ado – begin your Srilanka tour plan and get set to take off to our beautiful neighbor.